PEER -TO-PEER TUTORING: Transferring successful methodologyand learning strategy to reduce drops-out in IVET
Project 2013-1-IT1-LEO05-040 – TRANSFER OF INNOVATION-
Partners: 
Istituto Superiore di Istruzione Professionale Tecnico Commerciale A. Casagrande F.Cesi - Italy 
Border Agency Training Lavoro - Italy, I
stituto Superiore Statale "Pantanella Monnet" - Italy, 
Provincia di Perugia – Italy, 
Technical High School "Henri Coanda" Sibiu - Romania, 
School Inspectorate County of Sibiu-Romania,
 Arnavutköy District Directorate of National Education-Turkey, Opal Yayıncılık Organizasyon-Turkey High School- Mamak – Turkey .
Dear friends,
We are at the end of the project and in this newsletter we will present some of the results of the project (seminars and Line Committees).
Each partners organized a national seminar where the participants were informed about the aims of the project, impact of the "peer to peer" model and how can be applied in any school. Examples of good practice represented a starting point of debates about the model:
In Turkey, implemented of the model contributes to school atmosphere because it develops self-confidence and the confidence between peers, lowers the negative behavior among peers, helps the organization and improvement of social life.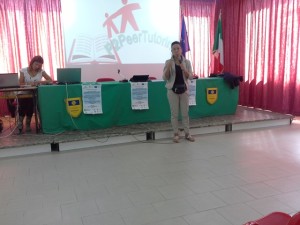 In Romania "peer to peer" model increased annual school results and also developed to the students from target group some aspects from their personality (communicative skills, self-confidence, feeling special, listening more carefully)
In Italy school, the model helped to increase the awareness of one's own way of being and value (self-awareness), the ability to build rewarding relationships (interpersonal relationships), increase awareness of the differences and similarities between one's own inner world and methods and those of others (empathy).
Each partners organized 3 Line Committees in each countries. The main of these meeting were to promote and to disseminate the partial results of the project and also to involve all stakeholders to
involve in the process of definition of the final form of the products of the project (guidelines for teachers and for students) starting from the needs analysis (WP1) carried out in each country.
In Italy, Casagrande Cesi School" guested a relevant Line Committee during which the speakers talked about how much youth need aggregation points and extra school activities to usefully spend their time.The Casagrande Cesi Headmaster, Prof. Giuseppe Metastasio, underlined how it's important to use methodology that put students in action, as real players. After a short summary of the project activities and objectives exposed by Prof Laura Vismara and Frontiera Lavoro representative, Roberta Veltrini, it was the turn of Rotary Social Club, one of the most relevant local partners of Casagrande Cesi School. Mr. Pietro Burrascano underlined that it's crucial for young people to learn how to work in team, and that all Rotary's activities for youth, operate to favor team working and tem building.
Another Line Committee participant was the Headmaster of "Liceo Scientifico Galilei", Prof. Matilde Cuccuini that expressed high interest in P2P methodology and committed her School to employ the P2P methodology.
Representing Terni Municipality Youth Offices, Dr. Laura Virili talked about the state of art of Youth Aggregation Centers in Terni. She underlined that nowadays it's time to change their organization and to refresh their activities, to find again their power to attract youth; probably we should consider that School could represent a good container to guest afternoon activities. Dr. Virili reiterated how it's crucial to favor connections among local youth workers (operating both in schools and in extra school contests), to be able to propose a large number of extra school activities to young people and their families.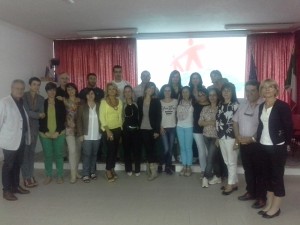 In Romania, on the Line Committee were invited partners form local community and from private companies (S:C: Compa.S:A) and headmasters from VET high-schools. The events were organized into the conference hall of the "Henri Coanda" Highs School. The themes were: information about the aims of the project (first Line Committee), partial results about how was implemented in school and feed-back from target group (second line committee). Stakeholders from Line Committee underlined the importance for students to acquire social skills for integration on the world of work.
Was applied the interest questionnaire to the participants to find with what problems faced students from other VET schools. We find that risk to drop out, integration in the group, school failure are same in schools. We received feedback from participants: pee2peer methodology is a way to improve student's self esteem, life skills and school results. At the end of the project the tutor guide for teachers and students will be shared to all schools that are interested in using this methodology.
In the last meeting with Line Committee was debated the opportunities to share and implement the model in other schools and develop the partnerships with institution who work with teenagers.